An all-time favorite and fantastic dinner served with vegetable, chicken stew, or sweetened coconut milk in south India, known as nool-appam or nool-puttu.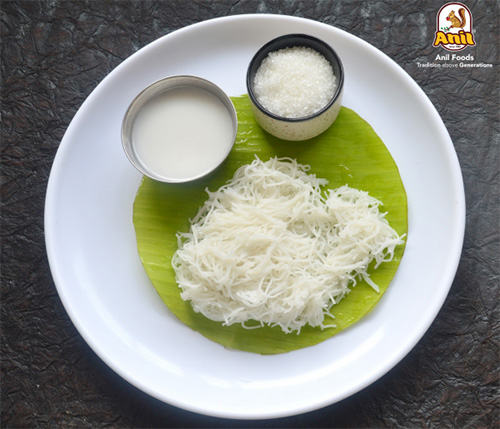 Soft idiyappam can be made with kozhukattai flour since rice is the base, regular old rice is the smart choice for making the dough, or store-bought kozhukattai flour of best brands like Anil Kozhukattai flour or rice flour easily available can be used, roasting the flour aids in absorbing more water while kneading is the secret for soft fluffy strings. Preparation time: 20mins
Cook time 15mins
Total time 35mins
Cuisine:  South Indian
Recipe type: breakfast/dinner
Ingredients:
1 cup plain rice flour
5 cups water
1 teaspoon vegetable oil
½ tbsp. Salt
Preparation:
Add a cup of Anil Idiyappam flour to a pan.
Roast the flour in medium flame.
Add 1.5 cup of water in pressure.
Add a tbsp. of oil and a tbsp. of salt.
Cover and cook for one whistle.
Remove the pressure manually.
Add the roasted flour and mix well to combine.
Keep the dough covered inside the cooker with the whistle on and flame off.
Leave it to rest for 15mins.
Mix the dough and knead a little.
Make small balls of the size comfortable to load inside the idiyappam press.
Press the idiyappam strings onto an idly plate.
Transfer the plate to a steamer and steam cook it for 10mins.
Allow it to rest for 5mins before serving.