1+year toddlers and kids. Let your baby be more adjustable to semi liquids & semi-solids. Anil Roasted Vermicelli is made of the wheat it is rich in dietary fibers and carbohydrates. Make sure that you give the amount of water for your babies after 40mins of the meal. Take care.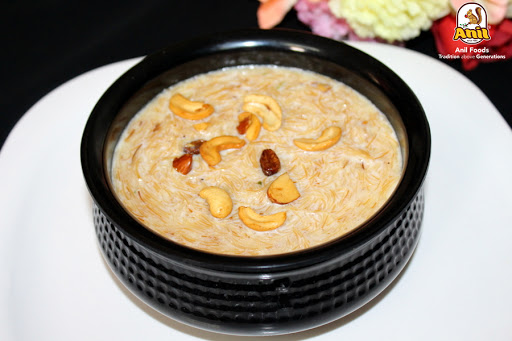 Delicious quick dessert
Recipe Cuisine: Indian
Recipe Category: Dessert
Prep time: 5mins
Cook time: 15mins
Total time: 20mins
Ingredients
• Vermicelli 1/2 cup
• Water 1.5 cup
• Milk 1.5 cup
• Jaggery 1/2 cup
• Cardamom 1
• Cashews 5
• Ghee 1tbsp
• Raisins 1tbsp
Preparation
• Keep all the ingredients ready
• Add required amount of water to vermicelli
• Cook, it covered
• Wait until it turns transparent
• Ghee fry cashew and raisins
• Heat jaggery with water until it melts
• Strain the jaggery water using a strainer
• Remove impurities
• Boil the milk
• Once vermicelli is cooked well add jaggery, water, a little ghee
• Cook in low flame
• After that add boiled milk at room temperature to the vermicelli
• Then add well-cooked cashew and raisins
• Mix well, feed your kid a tasty healthy kheer.