Now Millets have become a solution to lifestyle disorders, the revolution of grains in the recent times have marked a major policy shift, the government of many states, dieticians and manufacturers have decided to promote millets by-products and brandings like millet vermicelli, cookies, and snacks. Various millets like Bajara, Jowar, and Ragi are catching up awareness for a conscious healthy living.
This nutrient-rich grain which is gluten-free and low in glycemic index is making a quick comeback in the Indian agrarian landscape, development agencies and farmers in the past have ignored these magical seeds in favor of rice and wheat, but now farmers have realized that millet can grow in poor soil conditions, withstand higher temperature with less water, fertilizer, and pesticides.
Companies have emerged to fulfill this emerging trend and a rising demand for products made out of millets due to its driving consumption, large players of packed staples and FMCG manufacturers such as Anil foods have delivered traditionally rich and right millet products. Innovative millet mix products like baby foods, breakfast cereals, bakery, desserts, ice-creams, and breweries are emerging.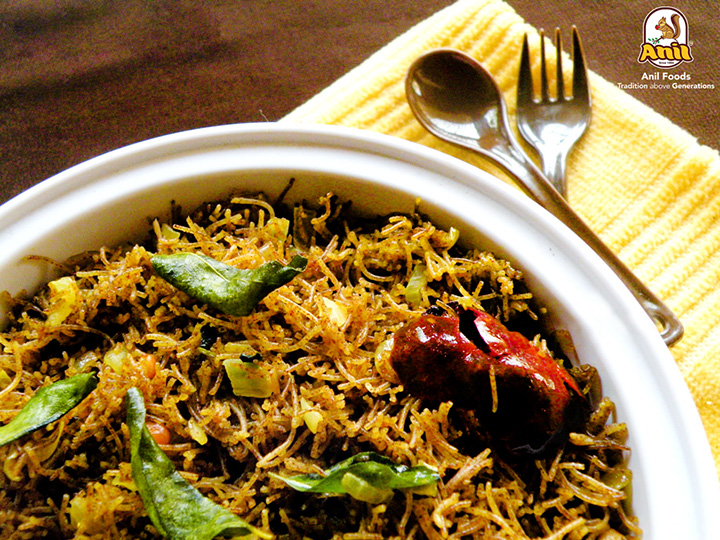 Nutritional facts of pear millet vermicelli
Nutritional information per 100 g – 372.63 kcal
Energy – 12.53 g
Protein – 80.11 g
Total carbohydrate of which sugar – 0.34 g
Total fat – 0.23 g
Saturated fat – 0 g
Trans fat – 0 g
Cholesterol – 0 mg
Sodium – 15.51 mg
Dietary fiber – 6.45 g
Iron – 6. 14 g
Calcium – 120.10 mg
Vitamin A – 0mcg
Vitamin C – 0.41 mg
Fine and roasted vermicelli brands like Anil millet vermicelli's in different forms and flavors which is available in the market that gives out an enhanced flavor and a crunchy texture, a delicious and wide array of flavors and cuisines.
Dishes prepared with millet vermicelli are high in proteins, iron, and calcium and folic acids, which prevents anemia, enhances a healthy nervous system, the alkaline nature of the food aids in overcoming acidity and helps to burn fat and easy to digest.
Benefits of eating millet vermicelli
1 cup serving cooked millet vermicelli provides 12% of the daily recommended amount of protein.
Keeps the digestive tract smooth
Prevents from heart diseases
Prevents from diabetes
Prevents women from gallstones
Prevents breast cancer
Provides good metabolism
Promotes bone growth and enhancement
How to prepare roasted pearl millet vermicelli Barfi
A perfect festive dessert
Sweet /Preparation time: 10mins/Cooking time: 15mins
Cuisine:
north
Indian
Ingredients
200 gram roasted vermicelli
100 gram
ghee
40gram almonds/30 gram pistachios
25 gram
raisins
250 ml milk
Preparation:
Add roasted millet vermicelli in a pan
Add ghee and toss it for a minute
Add milk to the above and let it boil
Add khoya and sugar and toss it till it blends
Heat till it reaches a thick pouring consistency
Spread it in a tray and sprinkle nuts
Let it cool and serve.