Snacks represent food choices outside of traditional meals such as breakfast, lunch, dinner represent snacks. Most popular among snacks choices are the famous Murukkus. Murukku is a savory, crunchy Indian snack. The snack originated in South India, and its name derives from the Tamil word for "twisted", which refers to its shape.
Murukkus originated in South India, mainly in Tamil Nadu. They are also known as Chakli, Chakri. These are very popular and a widely available snack also in other Indian states of Karnataka, Andhra Pradesh, Maharashtra, and Gujarat because of its taste and easy preparation.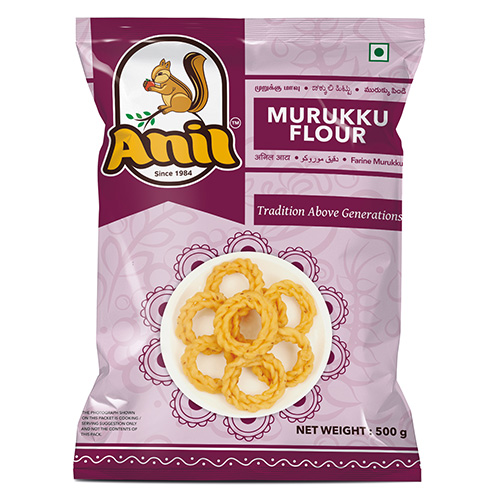 Preparation of Murukku
Murukku is typically made of rice flour and urad dal flour. The flours are mixed with water, salt, asafoetida, and either sesame seeds or cumin seeds and kneaded into the dough.  Then they are mechanically squeezed through a murukku maker in a spiral or coil form.
A special mould is used for making murukku, which brings out the correct shape. It is called chakli press or murukku maker. The traditional chakli press is made of brass. The spirals are then deep fried in vegetable oil. It is called chakli when Bengal gram (chickpea flour) is added to it as another ingredient.
Types of Murukkus
Murukku comes in various sizes and colors ranging from creamy to bright yellow to orange. It tastes light spicy but extremely crunchy. The best quality murukku is that which should melt inside the mouth after taking a bite. Murukku`s color depends upon the quality of rice used in the preparation.
There are both sweet and savory varieties of murukkus. Sweet varieties include Ring Murukku, Coconut Milk Murukku, and Achu Murukku which gets its sweetness from jaggery and nuts.
Savoury Varieties are Butter Murukku, Besan Murukku, Rice Murukku, Rice and Lentil Murukku, Light Crispy Murukku, Manapparai Murukku, Wheat Flour murukku, Spicy murukku, garlic murukku, Ribbon murukku, Kai Suthal Murukku.
How to make Butter Murukku
It is also known as butter rice chakli – a southern Indian delicacy. This easy-to-make snack is perfect at all times owing to its excellent aromatic flavor and crispiness.
Ingredients
Urad Dhal – 100 g
Rice flour – 400 g
Cumin seeds – 1 tsp
Sesame seeds – 1 tsp
Unsalted butter – 5 Tsp
Water – 400ml
Asafoetida – a pinch
Salt – to taste
Cooking oil – as required
Method
In a heavy-bottomed pan, fry urad dal until light brown and let it cool. Grind it into a fine powder.
To this add the rice flour. Then add cumin and sesame seeds to the urad-rice flour mixture. Melt butter and add it to the dry ingredients and mix them well.
Boil together water, asafoetida, and salt and leave to cool slightly.
Pour the hot water over urad-rice flour mixture little by little and stir constantly.
Mix until a dough consistency is reached that will pass comfortably through a murukku press or mould.
Fry in hot oil in a deep pan until light or golden brown in color.
Drain on a paper towel to remove excess oil. Leave to cool.
Murukku making requires skill, time, and a lot of patience. Getting the perfect shape, size and texture take a lifetime to master. This delicious crunchy snack can be prepared and stored in airtight containers for long periods of consumption.