Soup is the primary liquid food generally served warm or hot cooked with vegetables, meat, stock juice, soups are classified upon the use of agents used to thicken them. Evidence of the existence of soup can be found as far back as about 20,000 BC. The word soup comes from French "Soup" which means bread soaked in broth. Soups are energizers, the high water content in the soup will give keep filled with nutrition's, and soups generally contain low trans-fat, sodium, and saturated sugar. In many cultures soup is consumed as a part of the meal, etiquette experts state that we consume soup with a spoon as opposed to sipping it from a bowl, we 'eat' it.
Corn is actually considered as a vegetable but it is actually a grain, corn vermicelli made out of corn is rich in fiber, minerals with the variety of phytochemicals and antioxidants helps in scraping off unwanted dangerous cholesterol and enhances the general health of the heart.
Corn Vermicelli soup replenishes the fluid lost in the body and prepares the digestive for the rest of the meal, corn vermicelli available at stores are easy to prepare and comes in different flavors, brands like Anil Corn vermicelli manufactured in India which is available online are the smartest choice. Most of the calories from corn vermicelli is fiber that helps in reducing the risk of obesity and certain heart diseases. Adding chicken and spices helps in fighting cold and flu, and also helps in bone formation, growth, and repair.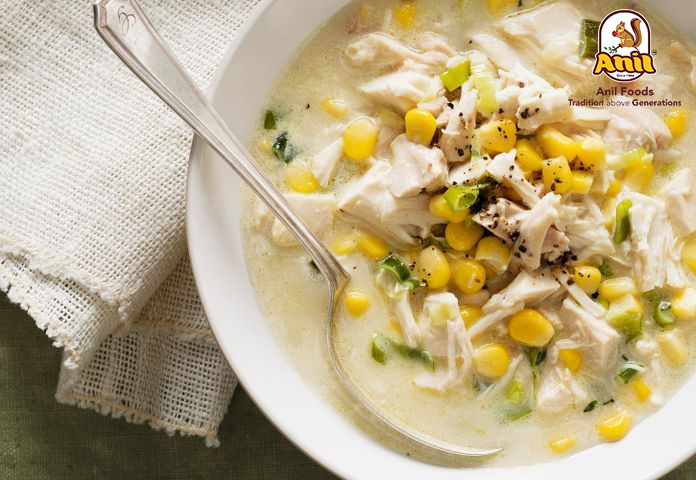 Chicken corn vermicelli soup
50gm Anil corn vermicelli
2 tablespoons vegetable oil
1 brown onion, finely chopped
2 garlic cloves, finely chopped
2 piece ginger, peeled, finely chopped
Chicken liquid stock
2 small (about 300g) chicken breast fillets, trimmed, cut into 5mm-thick slices
1 tablespoon soy sauce, salt, and pepper
1/3 cup fresh coriander leaves, finely chopped
Preparation
Place Anil corn vermicelli in a bowl and cover with hot water
Stand for 10mins or until just tender
Drain and set aside
In a pan add oil in medium heat
Add garlic, onion and ginger, cook, until onion softens
Add chicken stock and bring to boil
Stir with coriander
Add salt and pepper
Ladle soup into serving bowls and serve it hot.