Samosa is the most popular healthy finger food of Indian cuisine, prepared with whole wheat Chakki fresh Atta, a triangular or flatentrée, and a crispy, crusty, savory Fried fast food starter. Stuffed with mashed and boiled potatoes, onions, peas, and lentils, with flavorful and exotic spices and curried vegetables or minced meat accompanied with mint chutney. Sweet samosas contain no fillings that are simply dipped in thick sugar syrup. Samosa as an appetizer strikes the balance between calorie, fats and nutritional value.
Samosa health facts
Good vegetables.
No preservatives.
Fewer calories.
Less synthetic.
Less salt intake.
Chakki fresh Atta has more nutritious esteem than others rich in fiber and iron, the presence of Vitamin B & E enhances oxygen dissemination in the body, foods prepared with them makes you more active and energetic.
Longer shelf life.
Higher nutritional value.
Easy for digestion.
Purity.
Rich taste.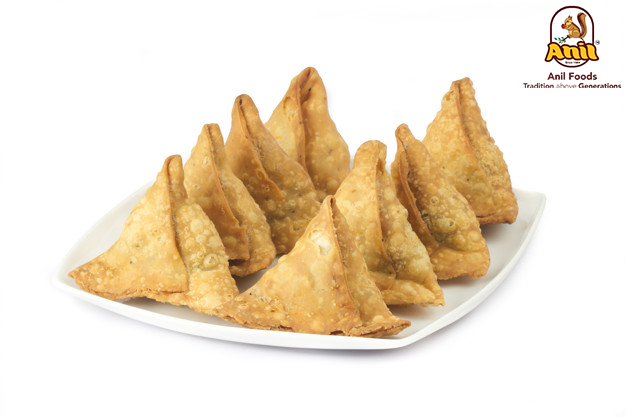 Vegetable samosa recipe:
Course:  Starter
Cuisine: Indian
Preparation time: 10mins
Cook time: 30mins
Total time: 40mins
Ingredients
For dough 
1/2 cupChakki fresh Atta flour.
1/2 tbsp. Sooji.
1/4 tbsp. Salt.
2 tbsp. Vegetable oil.
Lukewarm water as needed.
For filling
3 -4 Boiled, peeled, and mashed potatoes.
1/2 tbsp. Cumin seeds.
1 tbsp chopped green chilies.
2 chopped onions.
1/2 cup green peas.
2 tomatoes.
Traditional spices.
1 tbsp. coriander powder.
1/4 tbsp. Garam masala.
1/2 tbsp. mango powder.
2 tbsp. vegetable oil.
Curry and coriander leaves or mint.
Dough making
Mix Chakkifresh Atta, Sooji, Salt, Oil together to make a soft dough.
Add water as needed.
Knead for 2-3minutes.
Set the dough aside covered with a damp cloth for 15 minutes.
Making the filling
Heat oil in a pan on medium heat.
Add cumin seeds, green chilies, coriander powder.
Stir for a few seconds.
Add chopped onion, tomatoes and spices.
Add curry leaves and mint.
Add green peas turn heat to medium.
Add mashed potatoes and stir fry for 3-4mins.
Add garam masala, amchur and salt.
Keep it aside to cool to room temperature.
Making samosa
With 2tbsp. of water and 1tbsp. of Atta make a paste and keep it aside.
Knead the dough
Divide the dough into 4 equal parts and make balls
Roll each ball into 6-inch diameter circles
Cut each circle into half
Spread the paste lightly along the edge of one semi-circle
Fold it into a cone shape
Fill the cone with the filling prepared
Now close the top of the cone into a triangle shape
Heat oil in a frying pan on medium heat
Place the samosas in oil
Turn them slowly when it starts to float
Fry until it turns golden brown
Serve it hot with mint chutney